IN THE NEWS
Montford Point News and Annoucements
Grand Marshalls are Honored During the Torrance Armed Forces Day Parade

This year at the Torrance Armed Forces Day Parade a very special group of Grand Marshalls are being honored. The city of Torrance, California conducts annual celebratory events on Armed Forces Day in May each year to recognize US military forces. 2013 marks the 54th consecutive year the city of Torrance will host the Armed Forces Day celebration and parade to honor the sacrifices of our nation's past and present military. This year's theme is "Strong and Resilient: Prepared to Meet Any Challenge". Produced by Staff Sgt. Ron Widerberg. Soundbites from Maj. Gen. Melvin Spiese, Capt. Edward Hicks and Master Gunnery Sgt. Robert Reid

Read more: http://www.dvidshub.net/video/291013/grand-marshalls-honored-during-torrance-armed-forces-day-parade#ixzz2Tso5THsy
Do you have a story to share submit it here
Quantico Chapter 32
Cpl Smith's Congressional Gold Medal Ceremony (2013)
Retired Montford Point Marine presented Congressional Gold Medal
Kinston Marine is honored
Lt. Col. Keith Moore presents retired Montford Point Marine James B. McGee a Congressional Gold Medal at a ceremony Sunday, which his wife Ruby D. McGee accepted on his behalf. When the Montford Point Marines were honored in Washington, D.C. in June, McGee was unable to travel to receive the award.
By Jessika Morgan / Staff Writer Published: Monday, March 18, 2013 at 21:10 PM.
USNS Montford Point Takes On Legacy, Leads New Class of Navy Ships

United States Naval Ship Montford Point was christened by Jackie Bolden, wife of retired Marine Maj. Gen. Charles Bolden, the current administrator of NASA, in San Diego March 2. The ship was named after the Montford Point Marines, who were the first African American Marines to officially attend Marine recruit training in the the 1940s.
First mobile landing platform christened in San Diego
San Diego, California News Station - KFMB Channel 8 - cbs8.com
Montford Point Marines Make History
By: Robin Mazyck and John Jessup, February 27, 2013
Diversity Advertising Gains Prestige
By Cpl. Nate Carberry - February 22, 2013
The Marine Corps Recruiting Command's diversity advertising campaign, Montford Point Marines, won three awards at the 2013 Atlanta ADDY Awards Feb. 21. The campaign consisted of two print ads and a long-form web video. The print ads won a Bronze ADDY Award in the Consumer Publication Print Campaign category, and the web video won Silver ADDY Awards in both digital and video advertising categories.
Marine Corps Recruiting Command
Marine Corps Base Quantico, Va.
Contributions of Montford Point Marines celebrated at Cherry Point
Sgt. Maj. Christopher Robinson, 2nd Marine Aircraft Wing sergeant major, left, shakes hands with original Montford Point Marine Master Sgt. Johnnie Thompkins, center, and his wife, Ernell Thompkins at the Cherry Point base theater on Friday. Robinson spoke at a special program honoring the legacy of the Montford Point Marines.
Drew C. Wilson/Havelock News Click on image for full story:
Montford Point Marine to be featured in Black History program
ALBANY, Ga. — In July of 1946, Henry Jackson was approached by a recruiter and asked if he would like to become a member of the U.S. Marine Corps. Jackson was interested, but the recruiter told him he had to be at least 18 to join.
By Terry Lewis (1003) Click on image for full story:
WWII vets get overdue recognition at STL ceremony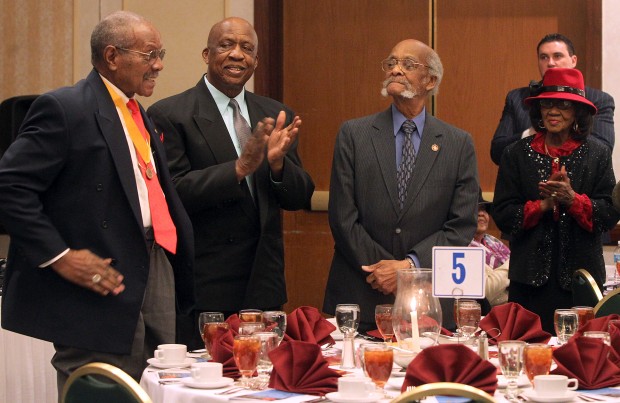 ST. LOUIS • Almost 60 years after they walked out of their racially segregated boot camp and into World War II, three St. Louis Marines have been awarded one of the nation's highest honors.
By Georgina Gustin ggustin@post-dispatch.com Click on image for full story:
Montford Point Marines honored at Memorial Hall
By Jon McGinty
Free-lance Writer
Rockford's Veterans Memorial Hall hosted six members of the Montford Point Marines during a ceremony and panel discussion Saturday, Feb. 2. The Marines were part of a ground-breaking effort by then-President Franklin Roosevelt to include African-American men in the U.S. Marine Corps during World War II.
Click on image for full story:
'No colored allowed': Black South Jersey men share struggle to join Marines in 1940s
Photos By:Danny Drake
black history program
Former Montford Point Marines Edward Brady, left, of Vineland, William French, of Mays Landing and Melvin Scott, right, of Mays Landing spoke Wednesday at the Federal Aviation Administration's William J. Hughes Technical Center during its Black History Month event.
By ANJALEE KHEMLANI Staff Writer pressofAtlanticCity.com
Posted: Thursday, February 7, 2013 1:45 am | Updated: 6:37 am, Thu Feb 7, 2013.
'No colored allowed': Black South Jersey men share struggle to join Marines in 1940s
Abington community gathers to honor legacy of Dr. Martin Luther King Jr.
By Jarreau Freeman
jfreeman@montgomerynews.com Click on image for full story:
While President Barack Obama was being sworn-in publicly as the 44th President of the United States, students, community members, township and school board members gathered in the Abington Senior High School auditorium for the 28th Annual Martin Luther King Memorial Service Monday.
Atlanta, GA
82-year old Robert Cleveland received the Congressional Medal of Honor yesterday at his home in East Point.
VFW Gold Medal of Merit Award Presentation
Dr. James T. Averhart accepts the VFW Gold Medal of Merit on behalf of the Montford Point Marines Association at the 113th VFW National Convention.
Story by: Clare A. Guerrero
Leatherneck Magazine September 2012
Click on image for full Article
www.mca-marines.org/leatherneck
Click on Image for full Story
Montford Point Marine Association celebrates American history
AMBERLY POZZI - DAILY NEWS STAFF
August 25, 2012 8:57 PM
47th annual Montford Point Marine Convention held at Camp Lejeune
CAMP LEJEUNE, N.C.--The original Monford Point Marines were honored Saturday evening at Camp Lejeune.
The annual event recognizes the sacrifices made by the first African American Marines to integrate back in the 1940's. Many of the original members are now in their 80's and 90's, and this year was especially important to them.
Norman Preston is an original Montford Point Marine and he said at the 47th annual Montford Point Marine Convention that he was too excited to even find the words to describe it.
This year, he and the other Marines had something especially important to celebrate, a golden accomplishment. "This has been 70 years in the making," Preston said. "To look back at this and when I came in the Marine Corps, it's unbelievable."
With the help of Sen. Kay Hagan and others, the original Montford Point Marines were awarded the Congressional Gold Medal.
It's recognition Sen. Hagan said was long over due. "After all of these years, that they're actually being honored and recognized for their service is truly something, I think, every American should be proud of," she said.
And the efforts of those who stood for the original marines were recognized as well Saturday. "I'm actually, very honored to be one of the inductees to be inducted into the Montford Point Hall of Fame," Senator Hagan said. "I mean, I had a very small role, but it really is something that I truly cherish."
Preston said it's a day, he never expected to see, but it's one he'll certainly never forget. "At my age, it's just awesome," he said, shaking his head. "It's hard to believe it's really happening."
The Montford Point Marine Association is now working to raise enough money to build a monument honoring the original members.
NASA Administrator reacts to Neil Armstrong's passing
By: News 14 Carolina Web Staff
MONTFORD, N.C.--News 14 Carolina had a chance to meet with NASA Administrator Charles Bolden, who spoke personally with Armstrong's family after his passing.
He said the family hopes people will remember Armstrong's legacy.
"There will never be a day that I can imagine that the name Neil Armstrong will not be in history books. The first human to set foot on another body other than our own planet. He actually pulled the world together for that one brief moment," said Bolden.
Bolden was in North Carolina for a gala honoring the Montford Point Marines. He said Armstrong was also proud of his service as a Navy test pilot before joining NASA.
New York Mayor Meets with Members of the Montford Point Marines
Mayor Bloomberg presents congressional gold medal awards to Mr. Israel Levant and Mr. John Washington, Members of the Montford Point Marines, with former Mayor Dinkins July 23, 2012
(Photo Credit: Kristen Artz)
Montford Point Marines Get Recognition They Deserve
The first group of African Americans to enter the Marine Corps. were known as the Montford Point Marines. They have been left out of history books but were finally honored with the Congressional Gold Medal. Art Norman reports.
By Richard Moy July 16, 201
1st African-American Marines honored in East Falls
PHILADELPHIA - July 7, 2012 (WPVI) -- Members of the Montford Point Marines were celebrated for their service in Philadelphia Saturday.
Greeted by spirited applause and loud cheers, the Montford Point Marines proudly marched to the stage at the Ray and Joan Kroc Corps Community Center in East Falls Saturday to be recognized for a national honor: the congressional gold medal. It is the highest civilian honor given by Congress. The proud pack of Philadelphia-area natives posed for pictures in front of family and friends while donning their brand new decoration.
"This goes back to 1942 to 1942," said Dr. Joseph Ginyard. "The many exploits and combat that we did overseas, and now to see them recognized by our great nation with the highest honor that can be bestowed upon a person, it is tremendous."
"Most Americans have heard about the Tuskegee Airmen and the Buffalo Soldiers, but Montford Point Marines, they're going to say 'Who are these guys?'" said Joseph Henry Geeter.
The men are the first African American Marines to serve our country, and they served under harsh conditions of discrimination.
"They served in a segregated training facility in Montford Point in North Carolina. I call them pioneers; the first blacks to serve. They paved the way for me," said Geeter.
And now, decades later, their brave efforts are being rewarded in a big way that deserves to be captured on-camera.
Nearly 400 Montford Point Marines were honored in Washington DC last month, but seating was limited. Saturday, family and friends were welcome to share in the honor of these local heroes.
It was about reflecting on the Marines' years of groundbreaking military service.
The first African American Marines, also known as the Montford Point Marines, will receive the Congressional Gold Medal Wednesday, June 27 during a ceremony in Emancipation Hall of the Capitol Visitors Center. Montford Point Marine representative, Mr. William McDowell, will accept the medal, which is the highest civilian honor awarded as the utmost expression of national appreciation for distinguished achievements and contributions, on behalf of all Montford point Marines.
Park University Magazine Presents
Click on image for full Magazine Article
Raymond L. Johnson Sr. dies at 89; lawyer, civil rights activist
Raymond L. Johnson Sr., who died Dec. 31, represented people wrongfully imprisoned during the Watts riots, helped establish a hospital and medical school in South L.A., and was a Tuskegee Airman.
Montford Point Marines attend funeral services of a Fellow Hero and Legend click here to see video
Indiana Gov. Mitch Daniels salutes military veterans from Montford Point Marine Association
Indiana Gov. Mitch Daniels salutes military veterans from Montford Point Marine Association, Chapter 21 in Indianapolis, who were given special recognition at the 21st Annual Dr. King Indiana Holiday Celebration in the South Atrium of the Indiana Statehouse on Thursday, January 12, 2012. The four men acknowledged were Sgt. Lancaster Price, left, Sgt. Maj. Johnny Washington, second from left, and Pfc. Otis Allen and Averitte W. Corly (both not shown). Charlie Nye / The Star
Marine Corps Archieves & Special Collections
The Marine Corps Archives & Special Collections is the primary repository for historical papers and audiovisual materials created by, and related to, the United States Marine Corps. The Archives also provides primary support for Professional Military Education (PME) for the Marine Corps.
Monroe Alum Shares Montford Point Marine Corps Legacy
Marine Corpsman Henry L. Jackson, a graduate of Monroe Comprehensive High School, recently visited his alma mater to discuss his Montford Point Marine Corps experience in conjunction with the 50th anniversary of the Albany Civil Rights Movement. Jackson shared vivid recollections of his experiences at Montford Point, North Carolina, with the student body, faculty and staff members.

In 1942, President Roosevelt established a presidential directive giving African-Americans an opportunity to be recruited into the Marine Corps. These African-Americans, from all states, were not sent to the traditional boot camps of Parris Island, South Carolina and San Diego, California.

Instead, African-American Marines were segregated, experiencing basic training at Montford Point, a facility at Camp Lejeune, North Carolina, which Jackson recalls as being "little more than a hacked-away part of forest in a corner of Camp Lejeune." Approximately twenty thousand (20,000) African American Marines received basic training at Montford Point between 1942 and 1949.

The U. S. House of Representatives recently awarded the nation's highest civilian honor, the Congressional Gold Medal to Jackson and his fellow African-American Marines for their service to America. Pictured are Monroe JROTC instructors Colonel Wright and Sergeant Inman with Jackson.
Savannah's last living original black police officer and original Montford Point Marine reflects on his career
Debate and Passage of HR 2447 To Grant the Congressional Gold Medal to the Montford Point
Vote 422 to 0 Passed
25 October 2011
Black AmericaWeb
Date: Monday, October 24, 2011, 4:22 am
By: Julie Watson, Associated Press
The Washington Post
Strong Men...STRONGER benefit gala
Life Pieces To Masterpieces, the non-profit in Northeast Washington heralded by President Obama two years for working successfully with black boys and young men aged 3 to 25, celebrated its 15th anniversary last Thursday at the Willard Hotel. The "2011 Strong Men...STRONGER Gala" was hosted by actor Wendell Pierce of "The Wire" and "Treme" and included dozens of current and former apprentices.
Joseph Carpenter, member of the Montford Point Marines, with wife, Ann Carpenter.
Honoring the Montford Point Marines
Semper Fi Magazine
The Magazine of the Marine Corps League
Sep - Oct 2011
WWII Memorial Commemoration of 66th Anniversary of V-J Day
Vice Chief of U.S. Army as Keynote Speaker
The Friends of the National World War II Memorial commemoration of the 66th anniversary of the ending of World War II to honor our nation's World War II veterans with a commemorative wreath laying at the National World War II Memorial was held on Friday September 2, 2011. General Peter J. Chiarelli, Vice Chief of Staff for the United States Army, gave the keynote address and gave special recognition to 40 World War II veterans from the Army 88th Infantry Division who participated in the ceremony. General John Herrling was Master of Ceremonies.
Retired Marine Corps Staff Sgt. Reuben J. McNair, now 85, served Jan. 17, 1944 to 1946. Then he reenlisted. He retired April 1966 and now belongs to a Washington, D.C., Marine Corps chapter that was invited to the commemoration.
"It's an honor to be here," said McNair, who also served in Korea with the 1st Marines.
"But people coming here today should remember that freedom doesn't always come easy," he said.
HAGAN & BIPARTISAN SENATORS INTRODUCE BILL TO AWARD FIRST AFRICAN AMERICAN MARINES
IN U.S. HISTORY WITH CONGRESSIONAL GOLD MEDAL
MENAFN - FIND Government Press Releases - Thursday, September 08, 2011
POLITICO
Preserving black Marines' history
5th Annual MBC Scholarship Walk-A-Thon presents Ambassador Theodore R. Britton, Jr
Commadant and Sergeant Major of The Marine Corps
"Honoring the bravery of the Montford Point Marines"
Battle to break color barrier, WWII Marine victorious
See all the latest MPMA 46th Anniversary Convention VIdeos here
It has been 70 years since the first African Americans were allowed to serve in the Marine Corps at Montford Point, N.C. As the few, proud men who make up the Montford Point Marine Association (MPMA) gathered this past Saturday for their annual convention in Atlanta, Ga., they reminisced over the sheer marvel of how times have changed. The history-making Marines never received the same recognition as the famed Tuskegee Airmen, African-American pilots who fought in World War II. But the few Montford Marines who are still alive reunite each year in hope to spread the word about the path they paved. Edwin J. Fizer, who first reported for training at Montford Point in the summer of 1942, remembers how tough it was to prove himself as a Marine. For him, it is important to be among others who can understand the sting of discrimination while serving the nation. "I've often talked to young white people who say, 'If I were in your shoes, I would be very angry,'" Fizer said. "I tell them that it takes strength." This year, the MPMA is focusing on preserving their legacy with a monument at Montford Point and supporting a bill that would grant Congressional Gold Medals for the first black Marines. On Saturday, Commandant of the Marine Corps Gen. James Amos met with the Montford Point survivors and began a month-long effort to pay tribute to them.
Read more
Click here to visit the Montford Point Marine Association website
Read Gen. Amos' speech at the Montford Point Marines Convention
Watch video of Gen. Amos' remarks

The Montford Marines will visit the Washington, D.C., area from the 25th to the 28the of Aug. They will be in D.C. to celebrate the 69th Anniversary of the first Marines arriving at Montford Point. During this visit, there will be an Evening Parade, Town Hall discussions, and visit to the National Museum of the Marine Corps (NMMC). Members of the community interested in meeting the Montford Marines can attend a gathering at the NMMC on August 27 at 1:00 p.m.
Read more
Marine Corps Seeks Award for First Black Marines
Date: Wednesday, August 03, 2011, 4:53 am
By: Julie Watson, Associated Press
First Black Marines honored
Added on July 30, 2011
CNN's T.J. Holmes interviews Ted Britton, one of the first blacks to join the marines in 1941, and James Averhart.
Park University Elects new Board Trustee Member
Mr. Joseph H Geeter III
PNP MPMA, MGySgt (Ret)
Actor John Amos Jr. to recieve
MPMA Special President's Award
Their Stories, Their Voices: African American WWII Veterans Who Served on Iwo Jima
New Documentary Film: Acclaimed TV and Motion Picture Actor, John Amos, has produced a documentary film Their Stories, Their Voices: African American WWII Veterans Who Served on Iwo Jima. This film premiered at the National Archives in Washington, DC in March, 2011 and features Original Montford Point Marine and Past National President Gene Doughty.
Marking the 50th Anniversary of the Vietnam War
Memorial Day remembrances of the Vietnam War, 50 years later. Decorated military veterans recall their entry in the Vietnam War, what they faced there and how they were treated when returned home.
NBC Philadelphia Video News Link of Story
--------------------------------------------
Click on above Image Magazine Cover for Mr. David W. Fortune personal Story
Montford Point Marines Honored in New York Memorial Day Observances
By FRANCESCA MAXIME PIX11.com
6:59 a.m. EDT, May 31, 201
NEW YORK (WPIX)—
Many people have heard of the Tuskegee Airmen, but few have heard of the Montford Point Marines. They're America's first African-American Marines, but were made to train apart from whites in a separate part of Camp LeJeune, North Carolina called Montford Point.

Initially, Blacks couldn't even serve in the Marine Corps. But when World War II began, they were allowed to volunteer.
Eighty-seven-year-old Gene Doughty signed up. Born in Stamford, Connecticut, Doughty completed training at Montford Point and served alongside Caucasian servicemen at Iwo Jima.

"I had to remind myself over and over again the Blacks who served in the Marines, especially during World War Two, were fighting really on two fronts," Doughty told PIX 11 News. "We were fighting segregation and racism, and the second front was [our] military duty."

Doughty wasn't alone. Just months apart in age, A. Sonny Griffith also wanted to become a Marine. Lured in by the pristine uniform, he too served in the Pacific. Griffith says many people expected him – and those like him – to fail: "At one time they said we wouldn't make it: Oh, the Blacks can't do it - they had a long way to go. But we proved them wrong."

Today the "Montford Pointers," as they're known, have chapters all around the country, including here in New York.

Many members weren't trained at Montford Point, because they entered the Marines after integration. But the group has become a way for African-American Marines to come together, sharing experiences not only of race – but of service.

To learn more about the Montford Point Marines New York Chapter, click on this link: http://mpmanyc.com.
Charles H. Stallard receives 2011 Rodney Williams, Jr. Memorial Award
Lexington, Kentucky, April 30, 2011: Presented annually at the Officer Selection Officer (OSO) Colonel William "Rich" Higgins Memorial Mess Night/Dining-In to an individual selected by the Marine Corps Coordinating Council of Kentucky (MCCCK) Board of Directors, who has demonstrated exemplary community leadership and commitment, with a long history of dedicated service to Marine Corps related activities within the Commonwealth of Kentucky. The presentation of a personalized engraved Marine Corps plaque was made by Major Rory B. Quinn, USMC, Commanding Officer, Marine Corps recruiting Station Louisville and Mr. Ed Armento, Secretary, MCCCK. Click here for full details
The Semper Fidelis is a quarterly publication design solely for the purpose to inform and keep retired Marines, their family members, and annuitants abreast of their rights, benefits, and privileges.
One of nation's first black Marines answered the call when a barrier was removed
Ann and James Pack in Smithfield, Michigan, after Pack received 'Marine of the Year' for 1988-1989 from the Michigan Marine Corps League
Click on image for full article
Resolution by Atlanta City Council member Aaron Watson calls on the
U.S. Congress to bestow The Congressional Gold Medal on the surviving members of the Montford Point Marines
Click on image for full story
Montford Point Marines Saluted During Black History Program
Leatherneck Magazine
"World War II: Montford Point Marines - Honoring and Preserving Their Legacy

February 2011 by: Coral Anika Theill
By: Ms. Lauren Armstrong
North Atlantic Treaty Organization
(NATO) Summit
LtGen Walt Gaskin, Deputy Chairman Military Committee, NATO, is pictured with President Barack Obama at the NATO Summit held 19-20 November 2010 in Lisbon, Portugal. At this year's summit, the NATO Heads of State worked on strategic concepts and strategy for NATO and non-NATO members. Participation in ISAF in Afghanistan was discussed, as well as new partnerships, and relationships with Russia.
This article was written by one of our very own Original Montford Point Marines, Mr. Dave Culmer. Chapter Presidents
Favorite son returns to Stillman for Founders Day
Lt. Gen. Willie J. Williams speaks during the 134th Founder's Day celebration inside Birthright Auditorium at Stillman College on Thursday. Williams, an alumnus of Stillman, is serving in the Marine Corps. (Full Story)
John "Zeke" Clouser, Original Montford Point Marine, past National Special Projects Officer, discusses the time he spent with Cecil B. Moore while they were both Marines during World War II. — SHIRA YUDKOFF/TRIBUNE PHOTOGRAPHER (Click on image for full story)
Black veterans group to honor Wilmington-born author
The Congressional Black Caucus Veterans' Braintrust will honor a Wilmington-born author, retired Marine and educator Friday at the Grand Hyatt Hotel in Washington, D.C. Mr.Clarence E. Willie
President Obama's Message to Veterans on Retroactive Pay Due to 'Stop Loss'
Posted by Michael Harasimowicz on September 15, 2010 at 12:25 PM EDT
Let's get the word out! Tens of thousands veterans whose service in Iraq or Afghanistan was involuntarily extended or retirement was suspended due to 'stop loss' are not applying for retroactive pay to which they are entitled, and the deadline is October 21! Under legislation President Obama signed into law last year, servicemen and women whose service was extended due to 'stop loss' are eligible for $500 per month in retroactive pay for each month their service was extended.
Montford Point Marines Day celebrated
By Cpl. Jo Jones, Marine Corps Base Camp Lejeune
Mr. Bob Talmadge
Aloha all,
I've written an article for our Hawaii Marine Newspaper and it can be accessed at:
When I enlisted in the Marine Corps in 1947, it was a segregated Corps,in fact no blacks had been enlisted in the Marine Corps for 145 years until 1942.
But times were changing, and two years after I enlisted, the black boot camp at Montford Point, Camp Lejeune, NC was closed down and all recruits were sent to the regular boot camps at Parris Island, SC and San Diego, CA.
Today we have Marines of all colors, nationalities, etc. who can rise to the office of Commandant of the Marine Corps, no restrictions. Yes, times did change.
Salute to the Montford Point Marines: Loyalty, Honor and Courage in the Face of Racism
Coral Anika Theill Salem-News.com
"The ultimate measure of a man is not where he stands in moments of comfort and convenience, but where he stands at times of challenge and controversy." - Dr. Martin Luther King, Jr.
(QUANTICO, Va.) -
The Montford Point Marines are often honored as important figures and role models in U.S. history for protecting a nation that still did not offer them basic civil rights.

African-American men were willing to give their lives for their country at a time when they were still subjected to lynching, terror and racism, in their communities.

Active and Engaged - Original Montford Point Marine - Ambassador Theodore R. Britton.
Ambassador Britton joined the Marine Corps on January 14, 1944 and he was assigned to Platoon 335 on January 29, 1944. He was discharged at the rank of Sergeant May 9, 1951. He proudly served two tours in the Marine Corps. Theodore R. (Ted) Britton currently resides in Atlanta, Georgia and is actively engaged with Atlanta Chapter 5.
Current and Past Events Magazine
Legionnaire News features Montford Pointer
The Georgia Legionnaire. Features an Original Montford Point Marine of the Atlanta, Ga Chapter- Master Sergeant John Hill. Whom is also the Detachment Adjutant for the state of Georgia. Click here to read More.

First black Marines recalled in panel discussion and documentary
After going through segregated basic training with some of the first African Americans to serve in the Marines, Thomas Cork fought in a frozen and formidable region of Korea and lost toes on one of his feet to frostbite.
Montford Point Marine Tells Story of His Lifelong Dedication to the Corps
Tommy Moore is a Montford Point Marine. He is one of the first African Americans to enlist in the Corps and participated in the island-hopping campaigns in the Pacific Ocean during World War II.
Henderson Hall 2006 MPMA Albany Chapter News Artical
Earnest L. Jackson
Blazing a trail

By JULIA LeDOUX
jledoux@insidenova.com
25 Feb 2009
Joseph Carpenter and Melvin Clarke don't consider themselves trailblazers. But for the thousands of African Americans who followed them into the Marine Corps, and really for all Marines, they are just that.
Carpenter and Clarke are among the "Montford Point Marines" who broke the color barrier that existed in the Marine Corps more than six decades ago.
They shared their memories Tuesday during an interview at the National Museum of the Marine Corps in Triangle.
During the height of World War II, President Franklin Roosevelt signed a presidential directive in 1942 giving African Americans the opportunity to be recruited into the Marine Corps.
The African Americans who joined the Corps came from all across the country, but were not sent to boot camps at Parris Island, South Carolina or San Diego, California. Instead, they were segregated and attended basic training at Montford Point - a facility at Camp Lejeune, North Carolina, known today as Camp Johnson. Carpenter and Clarke were among the 20,000 African Americans went through basic training there between 1942 and 1949.
"We were subject to be drafted," said Carpenter. "There was a draft going on. I really didn't have a choice. I was going in the Army, Navy, or the Marine Corps. I went into the Marine Corps because I wanted to be tough as anyone." The Washington, D.C. native joined the Corps in 1943 after finishing high school.
"When I got to Montford Point for boot camp, they immediately took me aside and put me in the company office as a clerk typist," Carpenter explained.
He was put in charge of a group of African American Marines that was travelling to Montford Point for basic training. Carpenter recalled the train ride from Washington, D.C. to North Carolina.
"Once we got to D.C., all the African Americans had to move to the car right behind the coal car," he said.
Clarke was already in the Navy attending the Marine Engineering School in Rhode Island when he made his way to Montford Point through what he called a "back door" in 1944.
"I was invisible because I made myself invisible," he said of his time in the Navy. "I had an attitude. I don't know how I survived in life, really. I was not to be messed with."
Clarke was the only African American in his Navy boot camp company and eventually found himself with a billet in security, but as the war was winding down in 1945 he found himself without a job.
"My focus was on finding the true faith," he said. "The Navy opened it up, the Marine Corps was just a milestone in that journey, because it continued after I got out. I ran into the difficulties as a civilian as I did in the military."
Carpenter and Clarke said the African American drill instructors that greeted them at Montford Point were tougher on them than white drill instructors because they wanted them to succeed and earn the title of Marine.
"They were horrible," said Carpenter, who lives in Maryland. "They did things that were inhuman."
Both Carpenter and Clarke also told of being denied service in restaurants because of their skin color, of facing discrimination – even though they stood ready to defend the country in battle.
Today, both men are active in the Montford Point Marine Association, a nonprofit organization that was established to perpetuate the legacy of the first African Americans who entered the United States Marine Corps.
THE DAILY NEWS / CHUCK BECKLEY
Montford Point Marines, Sgt. Paul Hagan, Master Sgt. Turner Blount and Master Sgt. Adner Batts Jr. reflect on their days as young black Marines in a segregated Corps.
AMANDA HICKEY February 7, 2009, Jacksonville, NC
When retired Sgt. Paul Hagan came back from fighting in the Korean War, he said his commanding officer didn't believe Hagan had earned the medals he wore proudly on his chest.
The officer sent a letter to the Department of the Navy stating his concern, and received a letter back that said the CO was right - Hagan still had one more medal coming.
"They didn't even apologize, they just wanted to bust me," he said, with anger still in his eyes decades later. "I still was treated wrong. They should have apologized."
Hagan is one of the Marines featured in the Montford Point Museum, which details the history of Montford Point, the camp where 20,000 black Marines were trained prior to the Marine Corps integration in 1949.
Hagan joined the Marine Corps in 1946, four years after Montford Point opened, to get away from his farm in Georgia.
"I saw that blue uniform ... and I thought 'I don't want to join the Army and Navy. I want to join the Marine Corps," he said.
Retired Master Sgt. Adner Batts Jr. also wanted to get out of his hometown, but he didn't go far after his 1948 enlistment.
The Hampstead native wanted to "see the world" but ended up stationed only 35 miles north of home.
Batts didn't know what to expect when it came to basic training. Having grown up in a segregated North Carolina, seeing only other black faces didn't surprise him - but he didn't expect it either.
"That was something I expected in Jacksonville but not on base," he said.
After basic training, however, he and three other black privates were stationed at Hadnot Point, an all white base, for cooking school.
"We were the only privates," Batts said. The white Marines had been promoted to private first class immediately after graduation.
It took a general's noticed to see that the three cooks received their promotion, he remembered.
"Blacks (weren't) wanted in the Marine Corps. This was, and is, the elite military organization in the world," Batts said.
Knowing that, he said, inspired him to prove that he could be a Marine.
Retired Master Sgt. Turner Blount had his eye on an Army career in 1943 when a friend talked him into enlisting in the Marine Corps.
He remembers that when it was time to go to a rifle range, he would have to go to a barge and travel to the range by water rather than get in a truck and drive.
"They were afraid to have blacks with weapons riding (around)," he said.
By 1949, Montford Point was no longer a black-only training facility.
"It was wonderful. It's what I thought it should have been all along," Batts said.
Things are different in today's Corps. Marines work side by side, regardless of race.
Cpl. Jessica Rhines, who is currently stationed with Headquarters Support Battallion, Bravo Company, joined the Marine Corps after high school as a way to pay for college.
"I feel as though it is important for every Marine, not just African Americans, to be educated and taught about those (Montford Point) Marines that start a new movement. They made opportunities then for future generations now," she said.
In her current office, Rhines is the only African-American as well as the only woman - something that she says doesn't make her uncomfortable.
That was not, however, the case in her last unit.
"I felt alone, abandoned and misunderstood. I was not the only African-American; however, I did not feel connected to them. ... I worked in an environment then where I was the only female and African-American. I was told that African-Americans did not belong in the Marine Corps and that females belong at home, pregnant and barefoot," she said in a written response to The Daily News.
It is the Marines Corps diversity, however, that make the branch so unique, she said.
"All of us combined make for an interesting line of work and workplace. I just wish that certain individuals with alternative views would recognize this and accept it as is," she said.
Today's diverse Marine Corps is what Blount always hoped for.
"We think we had a lot to do with the way things are today," he said of the Montford Point Marines. "We sort of paved the way."

Nov 27, 1958 ---- May 16, 1974
February 1999
Hall Of Fame To Celebrate Black History Week
Friday, January 23, 2009 01:07

Filed under:
News
— PressRelease
(from press release)
In honor of Black History Month and in anticipation of the April opening of the new exhibit celebrating the life of Hank Aaron, the National Baseball Hall of Fame will celebrate the achievements of African-American ballplayers with a full week of programs and activities starting Monday, February 16, and running through Saturday, February 21, 2009.
Each day, special artifact-spotlight presentations will feature artifacts from some of the game's greatest African-American players, such as Jackie Robinson, Hank Aaron, Satchel Paige and more.
These spotlights will take place in the museum's Pride and Passion exhibit, which shares the story of the African-American baseball experience, and will also include a brief tour and overview of the exhibit. Other themed daily activities during the week include hands-on activities for kids in the Education Gallery and documentary films airing in the museum's Bullpen Theater.
The National Baseball Hall of Fame and Museum is open seven days a week year round, with the exception of Thanksgiving, Christmas and New Year's Day. From Memorial Day through Labor Day, the Museum is open from 9:00 AM until 9:00 PM seven days a week. The Museum observes offseason hours of 9:00 AM until 5:00 PM from the day after Labor Day until Memorial Day Weekend.
Ticket prices are $16.50 for adults (13 and over), $11 for seniors (65 and over) and for those holding current memberships in the VFW, Disabled American Veterans, American Legion and AMVets organizations, and $6 for juniors (ages 7-12). Members are always admitted free of charge and there is no charge for children 6 years of age or younger. For more information, call 888-HALL-OF-FAME (888-425-5633) or 607-547-7200.
About the photograph: The picture is from the Library of Congress. It was taken in March 1943 by Roger Smith.
The title description reads: "Negro Marines prepare for action. Breaking a tradition of 167 years, the U.S. Marine Corps started enlisting Negroes on June 1, 1942. The first class of 1,200 Negro volunteers began their training three months later as members of the 51st Composite Defense Battalion at Montford Point, a section of the 200 square mile Marine Base, Camp Lejeune, at New River, North Carolina. Evidence of the lack of racial friction may be seen in the sports program at the camp. On the baseball team Negro enlistees and white non-com officers are teammates. Camp Lejeune has its own baseball league, with the Montford Point team a strong contender for championship honors."
Posted: 26 Jan 2009
Active and Engaged
The Atlanta Chapter Original Montford Point Marines From left to right; Melvin Shoats, Joseph Stinchcomb, John Brown, Sr. are consistantly engaged in the activities and commitments of their Atlanta, GA chapter, participating in meetings and community events in the Atlanta area. These members are a part of an elite group of men that have face the challenges of our nation and are a part of the foundation to which the integration of our Marine Corps as well as our Armed Forces.
Posted: 26 Jan 2009
Dan Bankhead
Biography By: Rory Costello
On April 22, 1943, Dan Bankhead enlisted in the Marine Corps in Macon, Georgia. He was stationed at Camp Lejeune, North Carolina. The Montford Point Marines, as they were also known, were not a combat unit. Even so, the all-black troops became historically significant as an important step toward the integration of American military forces. Dan was part of the Montford Point baseball team, which remained in the States for the duration of the war and toured as a "morale raiser."
NAVY CORPSMEN AT MONTFORD POINT MARINE CAMP
WWII
LtGen Ronald S Coleman will bestow honors on Mr. Henry L. Baul
Mr. HENRY L. BAUL
MONTFORD POINT MARINES
BACKGROUND
Henry Baul now at the age of 85 is a WWII living legend who was the ninth (9th) Black American to report for training in August 1942 at Montford Point Marine Corps Base (MCB) Camp Lejeune, North Carolina. He was a member of the very first platoon of Black Marines at Montford Point after Franklin Roosevelt passed Executive Order 8802.
On 16 May 2008, in Washington, D.C. LtGen Ronald S. Coleman will bestow honors on Mr. Baul during the 8th & I Evening Parade Ceremonies. Mrs. Sylvia Riley President of the Montford Point Detroit Chapter 19 and Mr. Robert Middleton the secretary for the Montford Point Detroit Chapter 19 will escort Mr. Baul during the ceremony.
Mr. Willie Rushton
Mr. Willie Rushton was born July 14, 1920 in Nadawah, Alabama,
a town so small it is not on most maps. His grandfather, who had been reared in Montgomery, was born a slave. Rushton grew up on a saw mill farm in Atmore, where his father worked as a block setter. He graduated from high school in 1941 and moved to Mobile where he got a job at the Coca-Cola Bottling Plant. He got married in 1942 and was drafted in the spring of 1943. He signed on with the Marines, and was sent to Montford Point, at Camp LeJeune, North Carolina for basic training.

Mr. John Gray
Mobile, AL
John Gray was born in his grandparents' home in Chickasaw, Alabama on November 27, 1924, and was living in Mobile when the war began. His father had left the family and gone north to work in the steel mills in Youngstown, Ohio. His mother worked as a cook and housekeeper. Gray lied about his age to get a job as a carpenter's helper in the Alabama Dry Dock and Shipbuilding Company in Mobile. He began attending college but was drafted into the Marines in May of 1943. He was assigned to a new segregated section of Camp LeJeune called Montford Point, where all African-American Marines were trained.
Public Broadcast Station
The Veterans History Project is a project of the Library of Congress aimed at collecting oral history interviews, memoirs, letters, diaries, photographs, and other original materials from veterans of World Wars I and II, and the Korean, Vietnam, and Persian Gulf Wars and the Afghanistan and Iraq conflicts (2001-present). Those U.S. citizen civilians who were actively involved in supporting war efforts (such as war industry workers, USO workers, flight instructors, medical volunteers, etc.) are also encouraged to contribute their personal narratives. Members of the public become part of the Veterans History Project after they donate their materials.
The National WWII Memorial registry is "an individual listing of Americans who contributed to the war effort" comprised of the names of those who sign up for the Registry of Remembrances as well as other official lists compiled by the American Battle Monuments Commission and War and Navy Department Killed in Service rosters. Donation of collection materials like interviews and/or memoirs is not a requirement for inclusion in the National World War II Memorial's registry.
Make Us Proud
Make Us Proud: A video biography depicting the times and experiences of the Marines of Montford point.
The Hellfighters
The Harlem Hellfighters and LT. James Reese: A biography depicting the events of black soldiers during WWI in Europe
Labor of Love - Montford Point Marines now have song

Special to The Beaufort Gazette
(Published September 6, 1998)


On July 18, the march of the Montford Point Marines was presented to the world.
The Parris Island Marine Band contributed to this chapter of Marine Corps history by performing the song commemorating the first black Marines, "I'll Take the Marines." The song was based on words written by a Montford Point Marine, LaSalle Vaughn of Port Royal, and the music was composed by Parris Island Drum Major Staff Sgt. Vernon Harris.

The song was presented during the 33rd annual Montford Point Marine Association convention at Gait House Hotel in Louisville. Ky. The story of the Montford Point Marines dates back to June 25, 1941, when President Franklin D. Roosevelt issued Executive Order 8802 - the Fair Employment Practices Act. The act banned discrimination in all government agencies "because of race, creed, color or national origin." Blacks were allowed in segregated units of the Army and mixed units of the Navy at various times throughout the history of America, but the Marine Corps didn't accept blacks at all until President Roosevelt signed the order. Finally, the tours opened to black men who were eager to serve the nation. Recruiting began on June 1, 1942, and the target total of 1,200 men was reached within the following months.

Montford Point Camp was opened on Aug. 18, 1942, near Jacksonville, N.C. The training was supervised by white officers and drill instructors, who were supported by "Acting Jacks," select recruits assisting their DIs with training. Graduates of Montford Point were assigned to 51 depot companies, 12 ammunition companies, two defense battalions and two anti-aircraft outfits. These men saw action in the Pacific theater of World War II, including the Battle of Okinawa.

On July 26, 1948, President Harry S. Truman passed Executive Order 9981, banning color bias in the armed services. After seven years of training black Marines, Montford Point Camp was deactivated. Every year since 1965, members of the Montford Point Marine Association reunite to share stories and relive memories of a time when black Marines' service record books were stamped "colored."

During his comments, the convention's keynote speaker, Brig. Gen. James R. Battaglini, Depot commanding general, reflected on the courage and determination that gave the Marines of Montford Point the strength to overcome adversity and break down racial barriers.

This year, Parris Island Marine Band marked another milestone in the history of the Montford Point Marines by performing the march. Vaughn, who served 24 years in the Marine Corps and six years in the Fleet Reserve, approached Harris last year and asked him to put music to a song that was in his head since 1957.

"I went from station to station with that song in my head," the 74-year-old retired staff sergeant said. "Even though I had it pretty hard in the Marine Corps, I could never misplace my song." Harris wrote a piano melody for the song, then began to work on the march, fueled with desire to give the Montford Point Marines the recognition they deserve. "I did some research before I started on the march because I wanted to find out if anyone had written a song for Montford Point Marines," Harris said.

He discovered that there was never a song dedicated to them. They considered the "Marines Hymn" their song, although many units throughout the Armed Services have a tune written of their heritage. "The history of the Montford Point Marines is overlooked," Harris continued. "I had been in the Marine Corps for 16 years and I never recalled much of the history taught to me. For the Marine Corps to be so proud of its history and to forget this significant part, was motivation to me.

"I wanted to draw attention to a part of our history that was passed by. Some people may think the history drags us down, but it encourages us," Harris said. "We don't want Marines to think of our Marine Corps as participating in institutional racism. I'm the last person that wants to think of our beloved organization as being racist," Harris said. "If African Americans at that time could go through the rigorous training of Marines when it was segregated and they were looked down upon and still be proud Marines, it's encouraging. It encourages all Marines to look forward and recognize our progress." The march was the final selection played by the band, and to some, the culmination of the ceremony. The Montford Point Marines gave the band a standing ovation.

"Play it again," Vaughn requested above the applause. "Please, just one more time."
Parris Island Marine Band played the March of the Montford Point Marines "I'll take the Marines" again to the satisfaction of the applauding convention.

"It's excellent that we have this very fine march that symbolizes what we have been feeling for so long," said retired Master Gunnery Sgt. Brooks E. Gray, who went through Montford Point in 1942 and was instrumental in founding the association. "It represents our great unity."Story and photos by Cpl. William Hawkins, a combat correspondent with the Parris Island Public Affairs Office.
3 Dead Marines and a Secret of Wartime Okinawa
By CALVIN SIMS
Published: June 1, 2000
Shortly before the end of World War II, just after the United States won the brutal battle for Okinawa, three American marines stationed in this sun-drenched archipelago disappeared. At first, the Marine Corps listed the three, all 19 years old and black, as possible deserters in the summer of 1945. A year later, when there was still no trace of them, they were declared missing in action.
For five decades, the case was forgotten. Then in 1998, the local police, acting on a tip, discovered what proved to be the bones of the three marines in a cave just north of this resort town. After long examinations, the remains were sent to relatives in the United States for burial early this year. But the discovery did little to solve the mystery of the marines' disappearance and, far from putting the case to rest, dredged up powerful local resentment about how Americans treated Okinawans after the fighting stopped.
Some elderly Okinawans, who grew up near where the remains were found, are now willing to tell a long-held secret: a group of villagers ambushed and killed the three men, thinking they were the three black marines who the villagers believed had repeatedly come to the village to rape the village women. While much of what the Okinawans said about those painful days after the war ended is corroborated, it has not been proved that these three marines committed any rape. Nor has it been confirmed that the villagers in fact killed the soldiers, although there is strong evidence that they did.
Still, the villagers' tale of a dark, long-kept secret has refocused attention on what historians say is one of the most widely ignored crimes of the war, the widespread rape of Okinawan women by American servicemen. Much has been written and debated about atrocities that Okinawans suffered at the hands of both the Americans and Japanese in one of the deadliest battles of the war. More than 200,000 soldiers and civilians, including one-third of the population of Okinawa, were killed.
There has been scant mention of rape afterward. But by one academic's estimate, as many as 10,000 Okinawan women may have been raped and rape was so prevalent that most Okinawans over age 65 either know or have heard of a woman who was raped in the aftermath of the war.
''I have read many accounts of such rapes in Okinawan newspapers and books, but few people know about them or are willing to talk about them,'' said Steve Rabson, a professor of East Asian Studies at Brown University, who is an expert on Okinawa. Marine Corps officials in Okinawa and Washington said that they knew of no rapes by American servicemen in Okinawa at the end of the war, and their records do not list war crimes committed by marines in Okinawa.
Gen. John G. Castellaw, deputy commander of the Marine force in Okinawa, said that during the past 30 years, in which he completed numerous assignments on the island, he had never heard of any accusations of widespread rape by American servicemen in Okinawa.
The New York Times tried to contact surviving members of the segregated 37th Marine Depot Unit, to which the three dead marines were attached. But the Montford Point Marine Association, a veterans group representing the marines who were trained at Montford Point, N.C., said it could not locate any veterans willing to be interviewed.
Samuel Saxton, a retired captain who is the association's immediate past president, said in a telephone interview that it was important to learn the truth about the marines' deaths and whether Americans committed rapes in Okinawa. But he said he feared that black marines who served there, and made up only a part of the Americans stationed on Okinawa, would be wrongly painted with a broad brush. ''It would be unfair for the public to get the impression that we were all a bunch of rapists after we worked so hard to serve our country,'' he said. Books, diaries, articles and other documents refer to rapes by American soldiers of various races and backgrounds.
Masaie Ishihara, a sociology professor at the Okinawa International University, said ''there is a lot of historical amnesia out there'' about those traumatic postwar years. He said that ''many people don't want to acknowledge what really happened.'' One possible explanation for why the United States military says it has no record of any rapes is that few if any Okinawan women reported being attacked out of fear and embarrassment, and that those who did were ignored by the United States military police, the historians said. Moreover, there has never been a large-scale effort to determine the real extent of such crimes.
Even today, efforts to speak to women who had been raped were rejected because friends, local historians and university professors who had spoken with the women said they preferred not to discuss it publicly. ''Victimized women feel too ashamed to make it public, and criminals who killed the three marines are afraid,'' said a police spokesman in the nearby city of Nago.
In his book ''Tennozan: The Battle of Okinawa and the Atomic Bomb,'' (Ticknor & Fields, 1992) George Feifer said that there were fewer than 10 reported cases of rape by 1946 in Okinawa, ''partly because of shame and disgrace, partly because Americans were victors and occupiers.'' Mr. Feifer said that ''in all there were probably thousands of incidents, but the victims' silence kept rape another dirty secret of the campaign.'' In interviews, historians and Okinawans said that some Okinawan women who were raped gave birth to biracial children, many of whom were killed at birth. More often, however, rape victims obtained abortions from village midwives.
The first published account in English of the discovery of the remains of the three marines appeared in The Pacific Stars and Stripes in 1998 shortly after the remains were retrieved. In the article, an Okinawan man who would not give his name said that as a child growing up after the war in Katsuyama, the remote mountain village where the remains were found, he heard village elders talk of an incident involving the American marines.
In separate interviews with The New York Times, elderly Okinawans who also grew up in the village, said that after the United States won the battle, three armed marines would come to Katsuyama every weekend and force the village men to take them to their women, who were then carried off to the hills and raped.
The marines were so confident, the villagers said, that they would sometimes come to Katsuyama without weapons. One day, the villagers, with the help of two armed Japanese soldiers who were hiding in the jungle, ambushed three marines in a dark narrow mountain pass near a river, they said. The Japanese soldiers shot at the marines from the bushes and several dozen villagers beat them to death with sticks and stones.
''I didn't see the actual killing because I was hiding in the mountains above, but I heard five or six gunshots and then a lot of footsteps and commotion,'' said Shinsei Higa, a 71-year-old retired teacher, who was 16 at the time. ''By late afternoon, we came down from the mountains and then everyone knew what had happened.'' Fearing that other Americans would come looking for the marines, the villagers dumped the bodies in a hillside cave, which has a 50-foot drop just inside the mouth, and they vowed never to speak of the incident to outsiders, the Okinawans said.
Kijun Kishimoto, an 84-year-old retired school principal who grew up in Katsuyama, said that he was away from the village when the killings took place but that he learned of the incident from his brother and niece.
''People were very afraid that if the Americans found out what happened there would be retaliation, so they decided to keep it a secret to protect those involved,'' Mr. Kishimoto said. Okinawans who lived in Katsuyama said the three marines who harassed their village were ''black Americans'' and that one was ''as large as a sumo wrestler.'' The cave, which is on a steep slope above a valley along a narrow river is known to local residents in Japanese as ''kurombo gama,'' which means Cave of the Negroes.
United States military officials said that based on dental records, the remains recovered in the cave were positively identified as those of the three missing marines, all of whom were black. They were Pfc. James D. Robinson of Savannah, Ga., Pfc. John M. Smith of Cincinnati, and Pvt. Isaac Stokes of Chicago. The Stars and Stripes article said that a guilty conscience led the Okinawan man to contact Setsuko Inafuku, a tour guide for Kadena United States Air Base in Okinawa, who had been involved in retrieving the remains of Okinawan and Japanese soldiers.
Ms. Inafuku said in an interview that she and the Okinawan man began searching for the cave in June 1997 but had no luck finding it until a typhoon struck the island in August and knocked over a tree that hid the entrance to the cave. In September the police were notified but they agreed not to remove the remains for several months so that the person who had led to the discovery could remain anonymous.
Marine Corps officials said that the United States military did not plan to conduct a criminal investigation since the remains were discovered outside a military installation and were under the jurisdiction of the Okinawa Prefectural Police. The prefectural police has said that it has no plans to investigate because the statute of limitations on such a case expired after 15 years.